Criminal defense attorney Ann Gottesman is experienced in defending those charged with various kinds of theft crimes, including felony and misdemeanor burglary charges.  Proposition 47 and new diversion laws have changed how many theft crimes are prosecuted, and have positively impacted defendants by offering alternatives to convictions and reducing some felony theft crimes to misdemeanors.   
"If you are facing burglary charges in Pasadena or some other Los Angeles County Court, call me for a free consultation.  There have been recent changes to the theft laws in California that may benefit you.  Certain burglary crimes which were once designated as felonies are now mandatory misdemeanors.  Proposition 47 and Penal Code section 1001.94 have given many defendants with previously clean records the opportunity to avoid a theft conviction altogether.  Your prior criminal record, the facts of your case and how the District Attorney files your charges will determine if you are eligible for "DEJ" (court diversion) or if your burglary charge can be reduced to a misdemeanor under Proposition 47." Ann
California Penal Code Section 459 PC burglary is defined as having the following elements:
The accused entered any residence, building, room, shop, structure or locked vehicle, and,
When entering, the accused intended to commit a larceny (theft) or any felony therein, AND
One or more is true:
a) The value of the property the accused intended to take was over $950,
b) The structure the accused entered was not commercial, or if it was commercial, the accused entered it outside of business hours.
FIRST AND SECOND DEGREE BURGLARY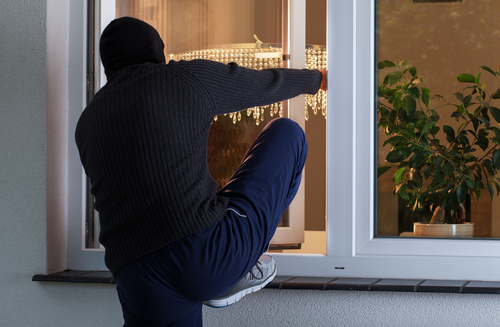 In California, the crime of Burglary is divided into two categories: First degree and Second degree burglary.  First degree burglaries are burglaries of a residence and they are "straight" felonies.  Residential burglary constitutes a "strike" under California's Three Strikes Law.  These first degree burglary convictions can never be reduced to a misdemeanor.  
First Degree Residential Burglary is carries a potential prison sentence ranging from 2 to 6 years.  
Second degree burglaries can be filed either as a misdemeanor or felony.  They apply to burglaries that occur in commercial buildings (during business hours) or some other non-residential buildings. Second Degree Burglary carries a sentence of up to 356 days in jail or 16 months, 2 years or 3 years in prison, as well as fines, restitution, probation or parole.
Proposition 47 which was voter approved in 2014, created Penal Code section 459.5 which expands the definition of shoplifting and petty theft, a misdemeanor, to include theft by an accused who enters the commercial business with intent to steal property $950 or less.  Prior to Proposition 47 taking effect, entering a shop with the intent to steal constituted a burglary under PC section 459, which could be filed as a felony.
HIRING AN EXPERIENCED LOS ANGELES BURGLARY DEFENSE ATTORNEY
Attorney Ann Gottesman is a compassionate, experienced, and well respected Los Angeles criminal defense and DUI attorney who has been passionately fighting for her clients constitutional rights for the past 10 years.  Her office is located in Pasadena, California, and she handles cases in most of the local L.A. courthouses.  Since Ann only handles Los Angeles and Pasadena area criminal and DUI cases, she has grown very familiar with most of the prosecutors and judges in these courts. 
If you or someone you care about has been arrested or charged with a theft crime or burglary offense, call Burglary Defense Attorney Ann Gottesman at 626-710-4021 for a free consultation regarding your case.  She makes herself available 7 days a week.