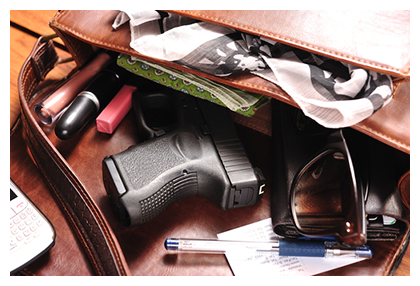 The Second Amendment of the US Constitution protects the rights of law abiding citizens to possess firearms and guns. However, there are numerous exceptions to the Second Amendment. States are permitted to a certain degree, to regulate the ownership and possession of guns/ firearms.  In California, pursuant to Penal Code section 25850, it is a crime for most citizens to carry or possess a loaded firearm or gun in public even if the gun is properly registered to that person.  However, as discussed below, there are defenses that can be made to this charge.
In Los Angeles, the District Attorney and City Prosecutor strongly enforce the law with respect to possessing and carrying firearms. While the motivation to strictly enforce California firearm laws may be rooted in the desire to remove from the streets gang members and dangerous individuals who commit crimes that are more violent and deadly as a result of widespread gun possession, the laws often time ensnare an otherwise law abiding citizen who inadvertently found him or herself in violation of one of the criminal laws.
WHAT PROSECUTION MUST PROVE TO A OBTAIN CONVICTION: ELEMENTS OF THE CRIME OF CA PENAL COD SECTION 25850(a):
Section 25850 of the California Penal Code states, "(a) A person is guilty of carrying a loaded firearm when the person carries a loaded firearm on the person or in a vehicle while in any public place or on any public street in an incorporated city or in any public place or on any public street in a prohibited area of unincorporated territory."
To be convicted of carrying a loaded gun or firearm, the DA must prove to the jury specific elements of the crime. Each element must be proven beyond a reasonable doubt. All twelve jurors must agree that the DA proved the charge beyond a reasonable doubt before an accused can be convicted. The elements of the crime of carrying a loaded firearm in public include:
The accused carried a loaded firearm on his or her person or in his or her vehicle,
The accused knew that he or she was in possession of the firearm,
The accused was in public a place.
PENALTIES FOR CARRYING LOADED FIREARM IN PUBLIC:
In California, a violation of PC 25850(c)(7) is a misdemeanor offense unless:
the accused has a prior felony conviction, or
is accused of participating in a criminal street gang, or
where the firearm is stolen and the accused had such knowledge or reasonably should have known the firearm was stolen, or
where the accused is not in lawful possession of the firearm, or
where the accused has been convicted of a crime against a person or property or of narcotics or dangerous drug violation.
As you can see, there are several situations where the District Attorney can file felony charges against a defendant accused of carrying a loaded firearm in public.  It is therefore important to call an experienced criminal defense lawyer such as attorney Ann Gottesman to discuss the particular facts of your case.
Assuming the accused is facing a misdemeanor charge for carrying a loaded firearm in public, the minimum and maximum sentence for this crime is:
A maximum of up to one year in the County Jail
Between 3 or 5 Years of Probation
A fine of up to $1000
Loss or restrictions of the accused's right to possess or carry a firearm,
If the accused is facing a violation of PC section 25850 as a felony or "wobbler", then the sentence will be up to one year in county jail, or 16 months, 2 years, or 3 years in county jail and a fine up to $1000.
Under PC section 25850(d)(1), if the accused has certain prior convictions, such as a prior conviction for assault with a deadly weapon, or for shooting at another vehicle or home, there will be a mandatory minimum sentence of 3 months in county jail imposed. 
LEGAL DEFENSES TO CARRYING LOADED FIREARM IN PUBLIC:
There are several defenses that may apply to a defendant charged with a violation of California Penal Code section 25850(a).  These include:
You were not carrying a loaded firearm,
You did not know you were carrying the gun (i.e., you grabbed your passenger's backpack by accident instead of your own and did not know a firearm was in it),
You were not carrying the firearm at the time you were in a public place,
You were not in a public place, or you were in a place where it was legal to carry the firearm, such as at a shooting range,
The detention or search of you or your property which lead to the discovery of the firearm was in violation of your constitutional rights,
You were in imminent fear of death or great bodily injury and were carrying the firearm for self-defense,
IF YOU ARE FACING WEAPONS CHARGES IN A LOS ANGELES COUNTY COURT, CALL CRIMINAL DEFENSE ATTORNEY ANN GOTTESMAN FOR A FREE CONSULTATION
Los Angeles prosecutors and police are cracking down hard in their pursuit to enforce California's strict gun regulation laws. This can sometimes lead to the arrest of otherwise law abiding citizens and registered gun owners who found themselves inadvertently on the wrong side of the law. 
 If you or someone you care about is facing criminal weapons charges, call me, attorney Ann Gottesman, for a free consultation.